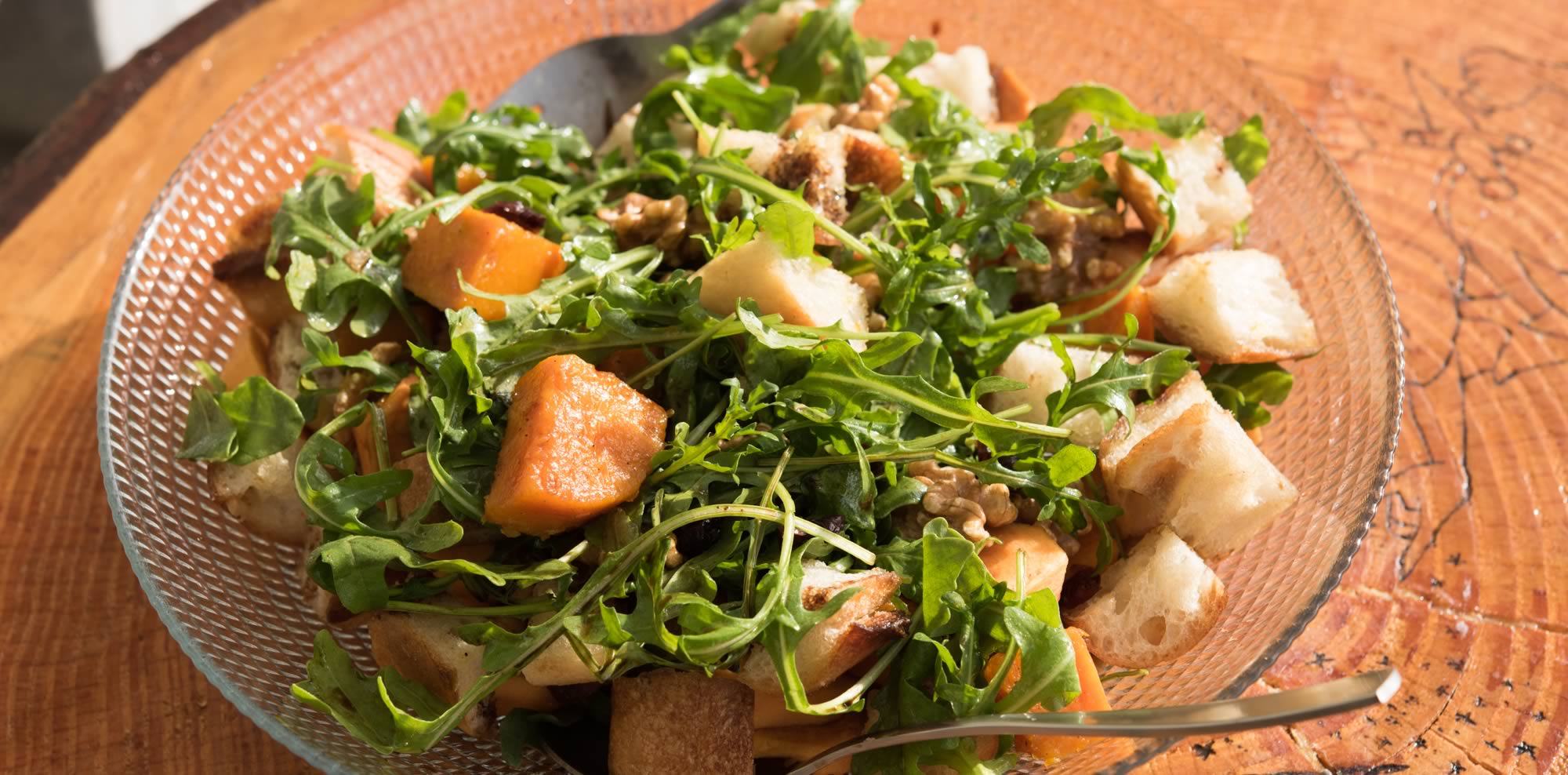 Serves 3 | Serving Size: 2 cups of salad per person
Total Time: 15 min | Prep: 15 min | Cook: 0 min
Here is a heart-healthy salad that pulls out all the stops for the fall and winter season. Delicately roasted winter squash, toasted walnuts, delicious greens and a simple dressing will make it a hit at your table.
Ingredients:
6 cups arugula or raw spinach (prewashed and ready to serve)
1 acorn squash, roasted, peeled, diced
1 cup toasted walnuts
1/2 cup diced sourdough bread
Dressing: Light spray of olive oil, balsamic vinegar to taste, cracked black pepper, chopped fresh parsley, small squeeze of lemon
Directions:
Roast the acorn or butternut squash until it is tender. Cut it in half, remove the seeds and then remove the squash from the peel with a spoon. Allow to cool and dice into large 1 inch cubes. Place the arugula in a bowl with the toasted walnuts, acorn squash, and bread. Toss lightly with the dressing ingredients. Serve immediately.
Chef's Tips:
You can use any kind of winter squash. The goal is to have about 2-3 cups of roasted, diced winter squash for the salad. This is a great way to use leftover roasted winter squash.
Nutrition Facts
Serving Size 2 cups of salad per person
Servings Per Batch 3
Amount Per Serving
Calories

447

Calories from Fat 236
% Daily Value *
Total Fat

26g

40%
Saturated Fat

3g

12%
Trans Fat

0g

Cholesterol

0mg

0
Sodium

126mg

5%
Total Carbohydrate

50g

16%
Dietary Fiber

12g

49%
Sugars

4g

Protein

11g

22%
Vitamin A

27%

• Vitamin C

45%

Calcium

17%

• Iron

22%

* Percent Daily Values are based on a 2,000 calorie diet. Your daily values may be higher or lower depending on your calorie needs.
© Food and Health Communications
Woodholme encourages a healthy diet and proper nutrition as one aspect of maintaining heart health. The nutrition information and recipes are presented for informational purposes only and are not intended take the place of one-on-one advice from your doctor. Please follow your personal physician's recommendations if any recipes, ingredients, or advice found here conflict with what your doctor has told you.