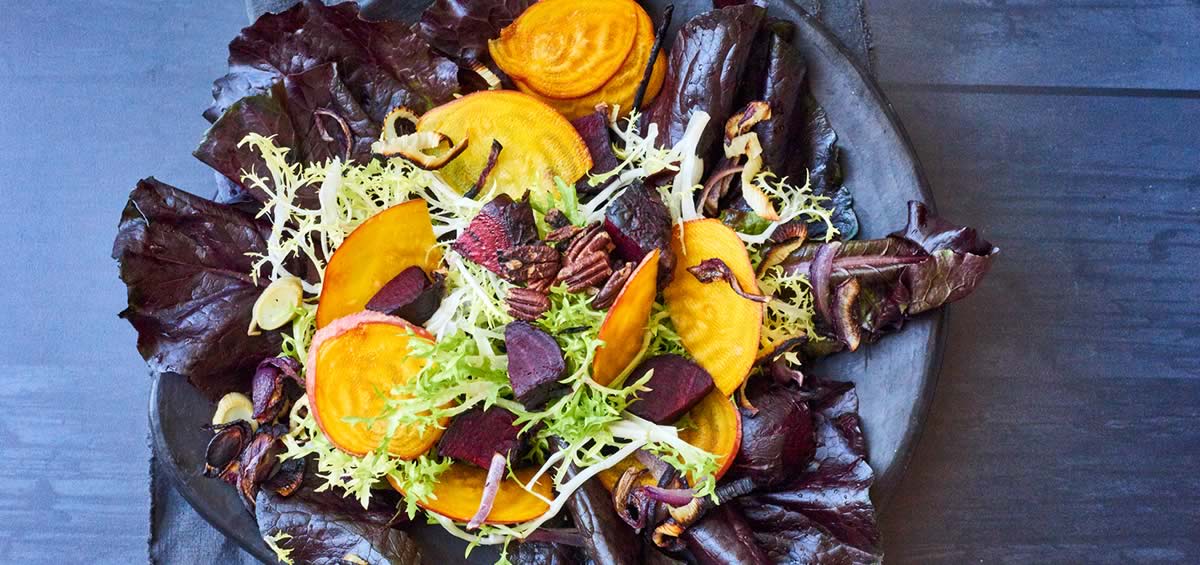 Serves 4 | Serving Size: 2 cups
Total Time: 50 min | Prep: 5 min | Cook: 45 min
A memorable delight for holidays and winter
Ingredients:
3 small red beets, roasted and cut in quarters
1 head of fennel, sliced thin
1/4 red onion, peeled and sliced thin
vegetable oil cooking spray (or olive oil cooking spray)
4 cups assorted fresh lettuces (we used red romaine and frise)
1 golden beet, raw, sliced thin
2 tablespoons baked pecan halves
Dressing: juice of one lemon, 2 tsp olive oil
Directions:
Roast the red beet in the oven at 400 for one hour. Allow to cool slightly then use a paper towel to slip off the skin. Cut in quarters.
Place the sliced red onion and fennel on a pan and spray with vegetable oil. Roast together until they are brown and crisp, about 40 minutes to one hour.
Toast the pecans for 4 minutes.
Arrange the lettuce on a platter with the darkest one on the outside. Add shaved golden beets, quartered roasted red beets, toasted pecans, and carmelized onion and fennel. Mix the lemon and olive oil and drizzle over the top. Serve immediately.
Chef's Tips:
You can make all of the ingredients ahead of time and then assemble at the last minute. If you don't have golden beets you can use carrots.
Nutrition Facts
Serving Size 2 cups
Servings Per Batch 4
Amount Per Serving
Calories 144
Calories from Fat 48
% Daily Value *
Total Fat 5g
8%
Saturated Fat 1g
3%
Trans Fat 0g
Cholesterol 0mg
0
Sodium 124mg
5%
Total Carbohydrate 23g
7%
Dietary Fiber 9g
35%
Sugars 10g
Protein 5g
9%
Vitamin A 274%
• Vitamin C 41%
Calcium 10%
• Iron 16%
* Percent Daily Values are based on a 2,000 calorie diet. Your daily values may be higher or lower depending on your calorie needs.
© Food and Health Communications
Woodholme encourages a healthy diet and proper nutrition as one aspect of maintaining heart health. The nutrition information and recipes are presented for informational purposes only and are not intended to take the place of one-on-one advice from your doctor. Please follow your personal physician's recommendations if any recipes, ingredients, or advice found here conflict with what your doctor