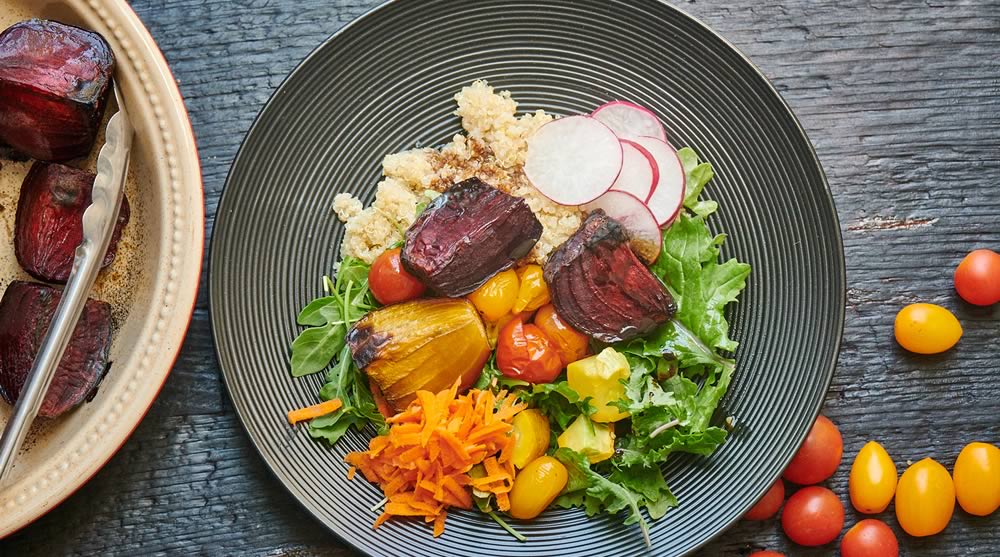 Vegetarian Poke Bowl
Serves 4 | Serving Size: 1 bowl, about 2 cups
Total Time: 55 min | Prep: 10 min | Cook: 45 min
Poke is a raw fish salad served as an appetizer in Hawaiian cuisine, and sometimes as a main course. This recipe is a vegetarian version.
Ingredients for Vegetarian Poke Bowl:
2 cups cooked quinoa
2 cups assorted greens – we used kale and arugula
1 red beet, trimmed and rinsed clean
1 golden beet, trimmed and rinsed clean
1 zucchini
1 yellow squash
1 cup tomatoes
2 radishes, sliced thin
1 carrot, grated
olive oil spray
balsamic or red wine vinegar
Directions:
Cut the beets in quarters and roast in an oiled pan at 450 degrees until they are soft in the center, about 45 minutes. During the last 15 minutes of roasting the beets, toss the diced zucchini, yellow squash, and tomatoes in a pan, top with olive oil spray and roast them in the oven. Pull all veggies out of the oven when tender and allow to cool for 10 minutes.
Arrange the quinoa and greens as a base on the plate. Top the quinoa with the beets and other roasted veggies. Spray with olive oil spray and top with vinegar.Top everything with sliced radishes and grated carrots.
Chef's Tips:
This is a great dish to make using farmer's market ingredients or items from a summer garden. You can vary your assortment of veggies or allow everyone to make their own poke bowl. Serve it as a vegetarian or vegan salad or accompany it with grilled seafood.
Nutrition Facts
Serving Size 1 bowl, about 2 cups
Servings Per Batch 4
Amount Per Serving
Calories

194

Calories from Fat 32
% Daily Value *
Total Fat

4g

5%
Saturated Fat

0g

1%
Trans Fat

0g

Cholesterol

0mg

0
Sodium

86mg

3%
Total Carbohydrate

35g

11%
Dietary Fiber

7g

29%
Sugars

9g

Protein

8g

15%
Vitamin A

161%

• Vitamin C

93%

Calcium

8%

• Iron

16%

* Percent Daily Values are based on a 2,000 calorie diet. Your daily values may be higher or lower depending on your calorie needs.
---
© Food and Health Communications
Woodholme encourages a healthy diet and proper nutrition as one aspect of maintaining heart health. The nutrition information and recipes are presented for informational purposes only and are not intended to take the place of one-on-one advice from your doctor. Please follow your personal physician's recommendations if any recipes, ingredients, or advice found here conflict with what your doctor