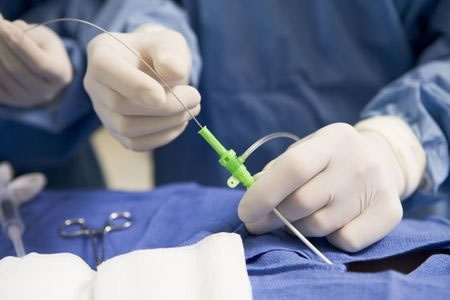 Cardiac catheterization is a diagnostic procedure performed by a cardiologist to evaluate certain types of heart disease. A thin plastic tube (called a catheter) is inserted into a blood vessel, either in the leg or now frequently through the wrist. The catheter is painlessly advanced through the blood vessel to the heart where pressures can be measured. Dye is injected through the catheter to allow visualization of the coronary (heart) arteries and structure of the heart. This is called angiography. The procedure typically takes an hour or less.
If a blockage is identified , a stent can be advanced through the catheter to the site of the blockage, opened up and left in place .Once the procedure is complete, if done through the wrist a small air filled plastic cuff is left in place to prevent bleeding. If done through the groin, a small absorbable plug is usually deployed to prevent bleeding.
Cardiac catheterization allows us to identify:
Blockages of the arteries that supply blood to the heart
Function of the heart valves and other structures
Pressures within the heart
The heart's pumping ability
This information can help doctors decide what treatment is most appropriate. The options might include:
No treatment (if the catheterization is normal)
Medication
Coronary angioplasty, with or without placement of stents
Referral to a cardiac surgeon for possible bypass.
What happens during a cardiac catheterization?
Step 1: Before
Do not eat for six hours before the test. You may drink. If your test is in the morning, begin your fast after midnight the night before. If your test is in the afternoon, you may have a light liquid breakfast such as fruit juice or tea.
Take your usual medications, especially aspirin, the morning of the procedure. If you are allergic to aspirin, please talk to your doctor about Plavix as an alternative. If you take medication for diabetes, do not take the medication before your procedure unless instructed to do so by your cardiologist.
If you are allergic to X-ray dye please notify your doctor and the nursing staff upon arrival.
Step 2: Preparation
When you arrive at the hospital, you will be taken to the preparation/recovery area where a member of the staff will do the following:
Take a brief medical history
Insert a small IV into your arm vein for administration of medications or fluids
Answer any questions you may have
Next, you will be moved to the catheterization laboratory, which looks like an operating room. You will lie on a special table that allows an x-ray camera to rotate around you. In preparation for the procedure:
Your groin or wrist will be prepped
You will be covered with sterile drapes
You will receive a sedative to help you relax
Step 3: The Procedure
Local anesthesia will be administered over the artery where the catheterization is to be performed. The local anesthetic may cause a slight sting or burning sensation that lasts only a few seconds.
A small puncture is made in the artery and a sheath (plastic tube) is inserted. The catheter is then painlessly advanced through the sheath to the heart arteries for dye injections, x-ray pictures, and pressure measurements. You may experience a flushing feeling with these injections but should feel no pain.
After reviewing your x-ray pictures, the cardiologists will choose one of the following treatment options:
Coronary angioplasty
End the catheterization and remove the catheter
This option will be chosen if:
Your arteries do not have significant blockages
Your cardiologist must discuss your treatment options with you, which may include surgery
Step 4: If Coronary Angioplasty Stent is Performed
If the catheterization shows blockages within your coronary arteries, your cardiologist may choose to open these blockages through the catheter. This process is called coronary angioplasty and may involve placement of a stent.
Angioplasty with or without stent implantation involves advancing a non-inflated balloon or stent though a catheter and down the artery to the exact location of your blockage, where it is inflated, compressing the blockage against the wall of the artery. When the balloon or stent is inflated, blood flow to your heart is temporarily interrupted and you may experience a brief period of discomfort. Every effort will be made to minimize this discomfort.
Discussion of findings
The doctor will come into your room to discuss the findings with you and, if you wish, your family members. You will be told whether further therapy is necessary. Further therapy may involve additional medications or even cardiac surgery. If surgery is recommended, it is usually scheduled for another day.
Step 5: After You Go Home
What to expect:
A bruise or lump may develop at the puncture site and remain for a week or more. This is normal. If there is extensive bruising, some discoloration and tenderness may last for several weeks.
Notify your doctor if you have new bleeding, increasing tenderness, redness or drainage from the puncture site, fever, chills or change in color or feeling in the limb used during the catheterization.
If a closure device was used, a plastic covering will be left over the site. This covering should be replaced daily after showering for the first three days. For the next four days, this site should be cleaned daily with a mild soap and covered with a clean band-aid. You can shower but not bathe for this period of time.
When to return to work:
If you had an elective catheterization without angioplasty, you should expect to take the day off after the procedure. If you have special needs, please discuss them with the doctors or nurses before you go home.
If you had an angioplasty or stent placement, you must clarify with your doctor when he/she has released you to return to work.
Ask the physician when you can resume exercising.
Summary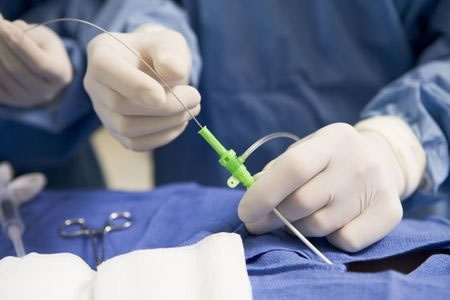 Article Name
What is Cardiac Catheterization?
Description
Cardiac catheterization is a diagnostic procedure performed by a cardiologist to evaluate certain types of heart disease. A thin plastic tube (called a catheter) is inserted into a blood vessel, either in the leg or now frequently through the wrist.
Author
Woodholme Cardiovascular Associates
Publisher Name
Woodholme Cardiovascular Associates
Publisher Logo