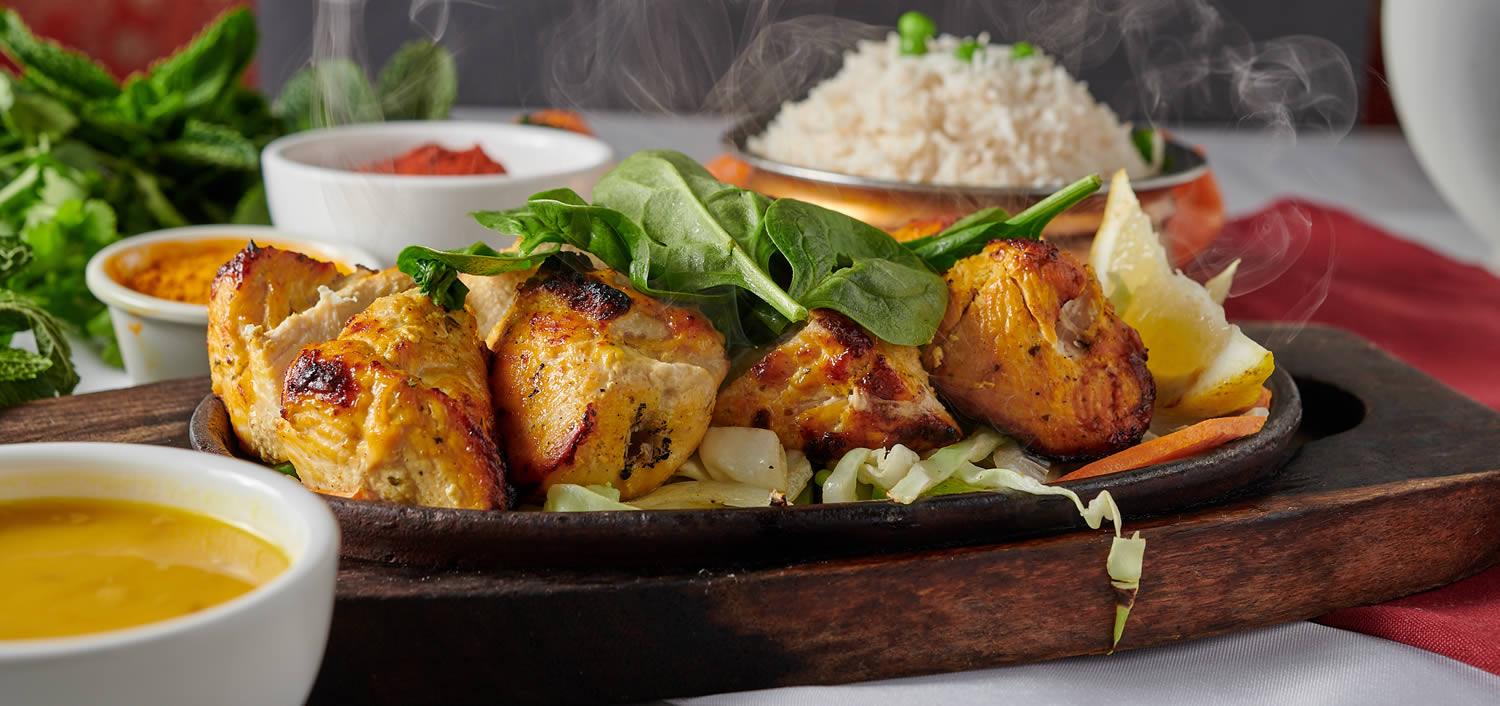 Serves 4 | Serving Size: 1 cup
Total Time: 25 min | Prep: 5 min | Cook: 20 min
Here is a healthy grilled chicken recipe with plenty of flavor! Serve it for lunch or dinner with rice and lots of grilled veggies.
Ingredients:
Rice:
3 cups cooked brown rice
1 cup chopped green onion
Grilled Chicken Sizzler:
2 skinless, boneless chicken breasts, cut into cubes
dash hot sauce
fresh lime juice
dash of vegetable oil
2 tsp light soy sauce
1 tsp each of garlic powder and dried ginger
Directions:
Cook the rice according to the package directions. Keep hot until ready to serve.
Rub the chicken with the rest of the ingredients. Broil or grill the cubes until it is done. Serve with the brown rice and top with green onion. Serve with grilled vegetables.
Chef's Tips:
Traditionally this dish is served on a very hot metal plate or pan so it "sizzles" at the table.
Allergens: Wheat
* Reported allergens are based on listed ingredients in the recipe. If you are purchasing commercially packaged products such as pie crusts, cereal, or pasta, you need to read the label for additional allergen information.
Nutrition Facts
Serving Size 1 cup
Servings Per Batch 4
Amount Per Serving
Calories

240

Calories from Fat 27
% Daily Value *
Total Fat

3g

4%
Saturated Fat

1g

3%
Trans Fat

0g

Cholesterol

38mg

12%
Sodium

167mg

6%
Total Carbohydrate

36g

12%
Dietary Fiber

3g

12%
Sugars

1g

Protein

17g

33%
Vitamin A

0%

Vitamin C

10%*

Calcium

2%

Iron

5%*

* Percent Daily Values are based on a 2,000 calorie diet. Your daily values may be higher or lower depending on your calorie needs.
© Food and Health Communications
Woodholme encourages a healthy diet and proper nutrition as one aspect of maintaining heart health. The nutrition information and recipes are presented for informational purposes only and are not intended take the place of one-on-one advice from your doctor. Please follow your personal physician's recommendations if any recipes, ingredients, or advice found here conflict with what your doctor