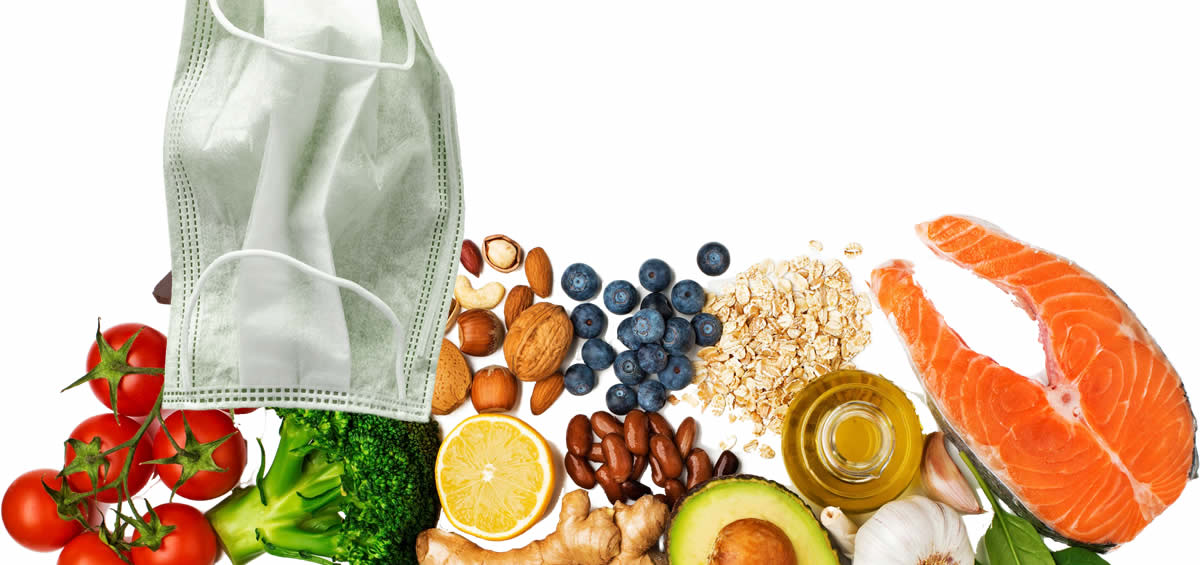 While supplement companies may be trying to sell you a bill of goods to keep your immune system humming while COVID-19 spreads, your best defense is likely in your pantry. Rather than popping zinc and vitamin C, let's take a look at how you can keep your immune system strong through addition and subtraction of certain foods or beverages.
Put Your Plants On
For starters, how much fiber are you eating? According to the USDA, fiber recommendations are 38 grams per day for men and 25 grams per day for women up to the age of 50. After the age of 50, these numbers drop slightly to 30 grams daily for men and 21 gram per day for women. Eating more fiber has been found to be beneficial to good health.
A recent analysis of nearly 250 research studies suggested that individuals with a diet containing more fruits, vegetables and whole grains have a lower risk of dying due to cancer and heart disease — two chronic illnesses that raise the risk of contracting COVID-19. Individuals with the highest fiber intakes cut their risk of death from cardiac disease, stroke, type 2 diabetes, and/or colon cancer by 16 to 24%, compared to individuals with lower fiber intakes.
One big reason why fiber is so important to your immune system comes down to 2 words: gut health. When high-fiber foods are fermented in the gut, they produce short chain fatty acids which help modulate the immune system. Short chain fatty acids improve nutrient absorption and reduce transit time in the colon, which helps rid the body of harmful byproducts of metabolism, along with other toxins. In addition, diversity of gut microbiome (the DNA of microbial communities in the gut) impacts the risk of obesity. A recent study of female twins in the UK found that high fiber intake and high gut microbiome diversity improved energy metabolism and were associated with lower term weight gain regardless of calorie intake and other confounders.
Move More!
Another natural way to protect your immune system is through regular exercise. Multiple studies have shown the benefits of physical activity on immune function including an increase in T cell function, improved uptake of nutrients, improved immune regulation, improvements in metabolic and bone health and improvements in sleep. The Department of Health and Human Services and the 2018 Physical Activity Guidelines for Americans, 2nd edition advise 150 minutes of aerobic physical activity and two days of strength training per week. This can be accomplished with 30-minute bouts of exercise, five days per week or multiple bouts of exercise to meet the suggested goal. While gyms and recreation centers are closed during this pandemic, take advantage of walking outside, riding a bike or kicking a ball around with your kids. You can also stream in-home workouts that don't require any special equipment.
Go to Bed
With less structured work hours, it's easy to get in the habit of staying up later or ignoring slumber cues. After all, Netflix is calling! But, getting adequate sleep gives your body and brain time to recharge and protects your immune system by mobilizing leukocytes, releasing cytokines and regulating T cells. Having poor sleep or insomnia has been linked with increased risk for viruses, including colds and flu.  Participants sleeping fewer than 6 hours per night were at an increased risk of developing a clinical cold following virus exposure in a 2015 study. Limited sleep is also associated with high blood pressure, elevated blood sugar, cholesterol and increased risk for depression and memory loss. Most health experts suggest a minimum of 7 to 8 hours of solid sleep for best health.
Get More Vitamin D
Kill two birds with one stone by getting outside for exercise and a dose of vitamin D. While fortified dairy products provide vitamin D, have you looked on a yogurt or cheese label lately? Most varieties don't contain much, if any, vitamin D. Getting enough vitamin D helps your immune system in a few ways. The fat-soluble vitamin receptor of vitamin D is expressed on immune cells including B and T cells as well as antigen presenting cells. A deficiency of vitamin D is linked with autoimmune disease such as MS, type 1 diabetes and systemic lupus. It's also been implicated with an increased risk for infection.
Back Off on Booze
In times of stress, it's easy to turn to the bottle for relief of anxiety. But this is not the time to stock up on alcohol. Research indicates that alcohol negatively impacts the gut microbiome and increases the chance of gut permeability — where bad bacteria can roam freely in the blood. In addition, alcohol affects the number and function of 3 major players in the immune system: macrophages, T cells, and C cells. So, if you consume alcohol, stick to moderation — one drink per day for women and two drinks per day for men. Excessive alcohol intake is linked with cancer, liver disease and a host of other problems in both men and women.
Tips for Consumers:
Choose high-fiber foods throughout the day including fresh, frozen or dried fruit, fresh or frozen vegetables, whole grains like oatmeal, bran cereal, and 100% whole grain bread. Add beans to soups, salads, and stews.
Move more. Walk, ride a bike, dance in front of your TV. Aim for 30 or more minutes at least 5 days a week.
Hit the sack! Keep a consistent sleep and wake cycle. Aim for 7 to 8 hours of sack time per night.
Consider a vitamin D supplement. A supplement of 1000 to 2000 IUs (international units) is safe for most people. Check with your doctor or pharmacist on what's right for you.
Limit alcohol. A cocktail now and then is fine, but can be a slippery slope if you're using alcohol to cope. Stock up on seltzer water, green tea or flavored coffee if you find yourself grabbing a wine glass too often.
By Lisa Andrews, MEd, RD, LD
---
© Food and Health Communications
Woodholme encourages a healthy diet and proper nutrition as one aspect of maintaining heart health. The nutrition information and recipes are presented for informational purposes only and are not intended to take the place of one-on-one advice from your doctor. Please follow your personal physician's recommendations if any recipes, ingredients, or advice found here conflict with what your doctor has told you.